Your Privacy Rights : Data Protection Act and Privacy Laws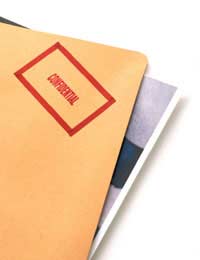 We live in an information age and it seems that everything we want to know about anybody is available, whether on the internet or in public records – you just have to know how to access it. It is quite a scary thought and, hackers and identity thieves aside, we are protected from unwanted intrusion into our private lives by The Human Rights and Privacy rules.
It is interesting to note that, until recently, there were no Privacy Laws in the UK. However, The Human Rights Act introduced sweeping changes under the auspices of Article 8; this gives us absolute Privacy Rights and allows us to take action through the Courts against any person, company or organisation that would seek to publish or otherwise use details of our private lives.
Why Do We Need Privacy?
Privacy is a basic need of human beings; we have a right to privacy in order to ensure our mental, physical, spiritual and emotional well-being. We all have the intrinsic need to be able to conduct our lives without unwanted intrusion of the press or the authorities; to be able to carry on our relationships behind closed doors and without the harassment of the press. We only have to remember the tragic death of Diana, Princess of Wales, and to think how her life was so blighted by an over-eager media, to see that the privacy rules that now cover us were long overdue.
The Public has a Right to Know!
Do they? Are we so starved of entertainment that we must become a nation of gossips hungry for any bit of dirt that can be raked up? Does it matter which celebrity is having an affair or is battling with addiction; personally, I don't think so.
I do think that we have a right to know how the Government is spending our hard-earned tax money, and how the Security Services are using information gained about us, but I think that is where our rights end, from a moral point of view.
Not a Sudden Change
The introduction of Article 8 of the Human Rights Act was not the first piece of legislation to set our rights down; there were various laws already in place that enabled us to protect certain information from public consumption:
The Consumer Credit Act
The Data Protection Act
The Protection from Harassment Act
These Acts, among others, guaranteed our rights when it came to certain information or situations. For instance, the Data Protection Act ensured that any company holding, or planning to hold, personal information about its customers was required to issue a Privacy Notice guaranteeing that the information would not be released for public or private consumption. It also gave us a right to sue the offending person or company if they failed to keep to their word. However, the Acts did not give us a blanket Right to Privacy.
What about Freedom of Information?
This is a question that the Courts, Academics and Media have been pondering. How do we balance Freedom of Information, which is also guaranteed by The Human Rights Act, with the individual's Right to Privacy? I think it comes down to one basic thing; the expectation of Privacy. If the person, be they royalty, celebrity or your next-door neighbour had the expectation that their actions would remain private, and there was no public need for the information to be published (for instance, they are not a criminal or terrorist) then they have a Right to Privacy that should be defended with the full force of the law.
There may be people who will disagree with me, I don't know, but personally I think there are more important things in the world to worry or hear about than the personal habits of the latest Hollywood darling.
You might also like...
I was a victim of a serious assault back in August and under police protection end of February my house was deliberately set on fire imagine the letter T so my house is in the centre middle line of Tand he's house is on the end corner of the top T in total he has six CCTV cameras to right and two on the side brick wall of an end terraced house which has no windows and from the wall all you can see is the public road and pavement this man always has his CCTV running 24/7 when my house was set on fire the first thing I done was looked up to see if he was recording and yes he was police asked him for the footage he said he was not recording and then said I refuse to give it to her because she reported me to the council throughout the past week I've had caused from the council and police that he is is calling and falsely lying to the council about anything he can think off myself and children were in the house when it's electrically will set on fire I got a phone call from the police and a visit saying I've been reported for harassment if I harassing one more time I shall get arrested I only begged him once to hand over the footage for my children's sake the reply was abusive language and a door slams in my face what I don't understand is how the police did not issue a warrant to get the CCTV and why have they taken his word that he's CCTV camera was off when everyone on our road those it was on and recording and then also saying he doesn't want to hand over the footage due to my complaint I find this very appalling from the police it's like they're siding with him and that's is no big deal considering children waiting the house as well.cancel notified me and said they are looking into it to see if he has permission from the council to put the CCTV up as the property is listed he told the police he's CCTV is switched off except one camera that is pointing at his door for security reason and safety when the police show up on before they show up he switches them off the only time he switched off his CCTV was the night after the fire and the night after that he then switched them on on I told the police I was asked for footage as I was filming the footage he switched it off now he's still leaves the site to cameras on but the camera that's was pointing at his front door one from the left and one from the right he has deliberately got the top facing left camera pointing directly at my front door I can't understand I'm on the police protection register awaiting a move and how are they letting this man records every move I make even if I wasn't a victim of assault he is invading my privacy I'm very vulnerable at the moment due to my safety and children I was warned by the police after to stop recording because it's harassment I only recorded with my phone to have prove he is recording 24/7 the entrance of my door and my house what can be done am I able to Sue this man under the circumstances for invading my privacy not handing over foota
After joining a weight management group and being a successful over almost a year. The consultant respecting my request to never reveal anything about me to the group ,the fact that I had issues with others knowing any of my details other than my first name. She never put me on the board telling of weight loses and gains which I found humiliating and deeply embarrassing or speak to me directly in the public portion of the meeting which would leave me frozen in terror, close to tears, recently left with a new consultant taking over. I asked multiple times to not have my details broadcast in the public talk. Disregarded my multiple request for privacy to be humiliated by her placing me on the board and telling in class to the gram. The gains and loses I had. When I again spoke to her about it I was more or less told to take it or lump it has this is the rule. Has I am playing for a service of advice and tips do I not have a reasonable right to privacy of my personal details if I so request?
upset
- 31-Jan-17 @ 10:57 AM
@Bill. It depends on a number of things: whether your signed anything about publicitiy & to what extent when you joined the club; whether the email to the newspaper requested that your permission was sought before publishing; whether you have told everyone about this and it's generally 'common knowledge' in all your club and associated activities etc. You need to seek professional legal advice to take this further.
AboutHumanRights
- 20-Mar-15 @ 12:05 PM
I belong to a bike club that has a board of directors- One of the leaders of the club took it on his own to email a writer for a news paper and told them without my consent and or permission that i have multiple sclerosis and two years ago was in a very serious bike accident. What about confidentiality, privacy act, hipaa privacy rule and Article 8 of the Human Rights Act- to protect us from public consumption? I never wanted my whole town to be privy to my having multiple sclerosis and my bike accident. Please advise me of my rights. Thanks William Borrow
Bill
- 18-Mar-15 @ 8:03 PM
@worried. Here is some information from
Rethink.org.
"Hospital Managers should give nearest relatives copies of any information given to a patient in writing. However the patient can block information from being given to the nearest relative.This includes if their judgment or reasoning has been affected by symptoms of mental illness. The nearest relative does not have any additional rights to being given information about their relative's mental health care or treatment when they are detained under the Mental Health Act. The hospital will still have a duty of confidentiality to the patient and will need their permission to share information. The Mental Health Act Code of Practice says that the progress of the patient should also be discussed with carers, if the patient consents."
AboutHumanRights
- 11-Mar-15 @ 12:35 PM
My wife is in a psychriatric unit at her request, after 4 weeks she stopped any contact with me ie texts answering or making calls, and is not receiving visits. I have no idea why and am being told very little by the hospital staff. My question is what rights to contact with my wife or to see her or to find out whats wrong do I have. HELP
Worried
- 8-Mar-15 @ 10:06 AM