Your Freedom of Speech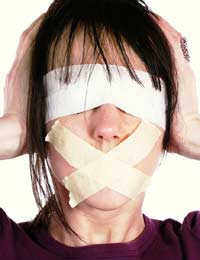 Freedom of speech. It sounds so simple, natural even. We have the right to voice our opinions in any way we please, whether verbally, in writing or both. We have the right to be heard; and to hear the opinions of others without being obliged to believe what they say. For the most part UK citizens have always had this right, so it may sound obvious to you and not need elaboration. We are lucky enough to live in a democratic society that believes in the rights, the human rights, of its people. Everyone has the right to their opinion, just as you have the right not to listen.
However, there are many countries, and millions of people, who do not have freedom of speech. They do not have the right to hear, watch, or read anything apart from sanitised and sanctioned material. Those that do read anything else are treated as extremists, subject to imprisonment or worse.
We have had the benefit of this and many other human rights for quite some considerable time, despite news reports that would seem to state otherwise. Our law has not been decided in a rush and made by those living a privileged lifestyle. It has been built by the decisions made in Courts, with juries of our peers and the Court has always been a place of equality and fairness.
Our freedom to speak out against injustice, or just voice our opinion about the state of Local Government, has already been well-established. However the fact that this is one of our sacrosanct human rights was not properly confirmed until The Human Rights Act 1998. This has placed into our law, among other human rights, the fact that we can have our own opinions and discuss these opinions freely and without fear of reprisal or interference from the Government. This is under Article 10 of the Act and called 'Freedom of Expression'.
Is it the Same as Freedom of the Press?
Yes and No. The members of the press have the human right to print anything they want, provided they don't invade another's privacy and that they have the evidence to back up their assertions. In a way, you are also constrained by the same thing. As with any right you also have responsibilities; you are subject to the law when it comes to slander and libel and you cannot knowingly reveal information given to you in confidence. Nor can you say anything that would threaten the public safety, national security or undermine the legal system.
Essentially this means that, although you may believe that what you are saying is true, you cannot put up posters encouraging people to commit crime, or start a riot. Similarly you cannot make a libelous statement to the press about someone you know.
So What Can I Do?
Pretty much anything you want; if you have strong opinions about how the country is being run, you can voice them. If you have cold, hard proof about crimes being committed, you can go to the authorities and tell them. It may seem obvious that you have this right, but the fact remains that many other countries do not, and if a UK Government body is trying to stop you from, for instance, giving a speech about crime in your neighbourhood, or writing a report on the state of the local primary care trust, they are breaching your right to freedom of expression, one of your fundamental human rights and you have the right to take action against them.
You might also like...
Hi there, I'm looking for advice in who I can contact to voice my opinion on the social services system?They are continuing to put money into the wrong things, instead of helping people that need the help.Where are parents rights?? Social services are the courts, so what's the point in going to court if decisions have already been made? They have done a good job of ruining mine and my husbands life, they split our families apart. Plus we now have no rights in seeing our son when we like, only when the grandparents say. I was unlucky to have had the social worker I had, she had no children, no understanding of how we felt, she lied, and wrote things that were horrendous.She judged us for having Illnesses. How can this be right?? It's quite a lot of info, but I feel our voices need to be heard..
Han
- 29-Jul-19 @ 12:36 PM
Hi I only have a small birth certificate but that's not proof that they are my real parents who can help me
Claire Wakeman
- 3-Jul-17 @ 8:08 PM
Is it a prisoners right in uk. To purely verbalise there support for Isis, whilst in prison (I hasten to add I don't agree). Wondered wether they should, or could be punished?
Inquisitive
- 31-Mar-17 @ 10:58 PM
I sent more than enough proof to dawn baxendale of council planning enforcement lack of service in not taking action against 3 developers breaching planning and planning conditions.I was given a vexatious customer letter to shut me up.Proving that i can have more than enough proof even have building regulations agree with me and councils solicitor but i was given no rights and instead left in shock that the cover up could go as high as the CEO.Even the echo do not have a journalist with the balls to print my story though i have so much proof that slander or libel would not come into it.Please feel free to print all my details.
momos
- 1-Mar-16 @ 11:59 PM
Ivekeep gettingcalls from thepoliceasking me to go to the police stationas I calleda woman on a a phonea paki and a Pakistan the call to social serviceswas beingrecordedshe reportedit to the policenow they want me to reportfor a policeinterview
barnaby
- 17-Dec-15 @ 11:16 AM
@Abbie. Are the letters being sent from an individual or individuals? ie. not in the name of anything/anyone that could be construed as having come from an allotment committee or organisation?
AboutHumanRights
- 8-Jun-15 @ 11:54 AM
This may seem to be a relatively trivial question, but I have suffered victimisation from a committee for more than 9 years and finally approached the Local Government Ombudsman, who found in my favour. The committee of my allotment association has just made a new rule that members may not send "circular letters" to each other unless they are first seenand approved by the committee. Is this a breach of freedom of expression? The association rents the land from the council, who provide rules and regulations. The LGO stated " My view is the Allotment Association exercises administrative functions for the Council. This is because the Council has entered an arrangement with the AA to carry out the function of managing the allotments. The fact the arrangement is through a tenancy agreement does not affect the operation of the statutory provisions. So the Ombudsman can consider whether there was fault in the actions [ the allotment committee] took." 1. Is the allotment committee within their rights to prohibit members writing "circular letters" (i.e. informational letters)? 2. Is the allotment committee within their rights to impose censorship on members? 3. In light of the LGO's opinion, should any complaint / comment be addressed to the committee or the council? I hope you can answer these questions. I am experiencing great difficulty in receiving a definitive answer.
abbie
- 4-Jun-15 @ 8:36 AM
our freedom?its not even right..half the people in this entire world barely have freedom, we should'nt only be fighting for our freedom but everyone elses even though this might not even be on topic about the freedom of speech i dont care im 12 yearsold and i want to change the world and make everyone feel equal and part of this world.freedom?it also mean people should be eating and drinkng what they want, should be treated as a human.education?thats a huge part of everyones life!!how come no ones caring about people having to pay for education in other countries.in other countries they have to quit school and work and earn less money than your supposed to get...this world we should be fighting for justice, equality and of course...freedom.
shootingstar786
- 10-Jul-14 @ 8:05 PM
We, the ordinary bod in the street don't get a say, the press are nobody, they should get no more than we have, now things could be a bit more level, or just like the political parties does the press expect to have what they have, the press should remember THEY ARE NOBODY, get us a say then we might agree with you.
thumb
- 30-Oct-13 @ 10:43 PM
I am of the opinion the majority do not vote. This in itself calls into question the veracity of our democracy. However I would like to ask others who think "none of the above" is the correct vote to join a campaign to go to the vote and spoil their voting form so when the count comes it will be a visual representation of the numbers of people who do not want the country led by professional politicians. Who want the people to be described as citizens, not consumers. Who feel the funding of banks is supporting the criminals not the victims. Who feel the free for all in the immigration system is not being addressed. Who feel the police are not doing their job protecting the citizens, but protecting themselves from blame. Would this promote a little anger from my local MP and as a consequence, the business community?
rodthesod2012
- 2-Aug-13 @ 7:23 AM
lord Chief Justice Sedle, " Freedom to only speak inoffensively is not worth having." Ex shadow Home secretary David Davis M.P"The simple truth is that in a free society there is no right not to be offended. For centuries freedom of speach has been a vital part of British life."
Stuart Parsons
- 17-Dec-12 @ 1:28 AM
My work place want to disipline me for speaking to a college At work
Hammy
- 19-Nov-12 @ 8:02 PM
My work place wants to discipline me for Talking to my colleges is this against my human rights
Hammy
- 19-Nov-12 @ 7:58 PM
I was sent to prison in 2003 for calling a pakistanie man a paki at the time he was trying to attack me with a baseball bat after falsely accusing me of theft of a sausage roll from the chip shop he was working in how is this freedom of speech I didn't feel that I had done anything wrong at the time and freely admitted to calling him a paki after all it is an abbreviation of his nationality and he was a attacking me I still don't think I was in the wrong and should not have been jailed after all I was not inciting a situation but responding to an incited situation
Brains
- 20-Aug-12 @ 7:42 AM
What a load of tosh. Freedom of speech ? How about everyone and there cat on twitter being arrested? Democarcy? I didnt get a choice when Blair decided to goto war with no proof of WMD. I didnt get a vote about joining Europe. Anyone who thinks we live in a democratic society is a fool!
is sun bingo breaking freedom of speech laws if you are on their site and complain about not winning or how much money you have spent they wont display it and ban you from their site basically they wont let you say anything negative about the site at all
matt
- 9-Jun-12 @ 7:19 PM
We had a big event as we celebrate every year in September, called Delhi Day (Battle honor).I have made few comments toward the organising team as this was not right that was not right because I feel some of the people on the floor not happy the way it organised.Every year there was open tender for catering service and sale of drinks but this year the committee and especially chairperson decided to grant someone as he feel OK.The price of food was charged high than last year, which I said wrong, the price of drink was too high and I objected. I have tried tofind cheaper quote than this year and nothing heard.Now the chirman and his deputy feel humiliated, insulted and feel very bad about my comments.They wish to take legal action to me. Do I have right to express my opinion and express my view or not. What happened if they drag me to court.Please help.
Mukti
- 22-Sep-11 @ 7:40 PM
my question is regarding how to deal with police officers when taking videos in a public place, or announcing my opinions in a public place, i have been told by several officers of the law that i cannot have them recorded when they are asking me questions, tho i beleive it is in my right to have a witness there and to have it recorded, please help me clear this up. thanks
Freedomaintcheap
- 11-Jul-11 @ 10:58 AM
in a hospital staff have put comments on facebook some and general moans about this hospital and some are just asking for a swap of shift no names are mentioned. The management have printed this all off and are taking alot of staff to disciplinary stage 1 are they allowed to do this when most of these people were just trying to swap a shift. or having a general moan ? is this covered under the human rights act thanks
LuLu
- 2-Jul-11 @ 4:46 PM
my work are getting me in for a disciplinary,for a comment i put on facebook,it does not say my work or anyones name,i find this to b intrampment,as its a private conversation am having with friends on facebook,.are they right to do this? many thanks
demi01
- 23-Jun-11 @ 6:05 PM
How about the footballer sueing twitter at the moment? Do i have the right to say his name?
mb007
- 21-May-11 @ 3:39 PM
169. Notwithstanding the mother's reassurances, the father raised the same issue during his police interviews. The police officers latched on to this, treating it almost as if it were a confession. The interviewing officers did not have the benefit of the medical evidence that is before the court. Had they been aware of the medical evidence they would no doubt have realised that this 'explanation' from the father does not stand up to close scrutiny. The above extract from the Bellamy judgement shows that the results of the x-rays were kept secret from the police ! Certainly neither Christopher Booker nor the parents were told before the departure to Ireland where no treatment at all was required for any injuries…… Be that as it may,Bellamy knew quite well that Christopher could not report fractures that were kept secret from him and from the police,but nevertheless castigated him for not writing about them ! Hypocrisy or Deliberate deception? Take your choice
ian
- 18-May-11 @ 12:02 PM
What a lot of jargon! Why not stick to the simple outrageous fact that a mother can [details of case redacted - Carl] and that she will be jailed if she tries to complain! WHY? Because biased judges pretend the right to privacy free from interference from government agencies as stated in Article 8 of the Human rights Act was designed to gag parents when in fact the obvious intention was to PROTECT them ! Let's talk in terms that the average man in the street would use and understand! Social workers can take our babies and jail us if we kick up a public fuss! We get punished even though we have committed no crimes against children or anyone else! Where is justice? Where is free speech? Where is so called democracy?
ianjosephs
- 3-May-11 @ 9:01 PM
At school I can't voice my own opinions, in fact yesterday I got put in confinement for it. I made a statement about homosexuality