Your Rights to Protest or Demonstrate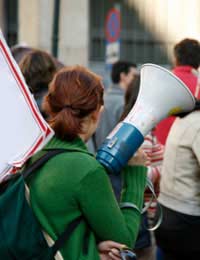 You don't need to look too far back in your memory, or the archives of the newspapers, to see that many violent protests (such as the Poll Tax Riots) make the headlines for entirely the wrong reasons. The right to protest peacefully is a fundamental part of our society. We tend to forget that many of the human rights we cherish today are a direct result of protests by ordinary people who were prepared to go onto the streets to make their feelings known.
Peaceful Protests
It is a sad fact that many of the groups that make a point of ensuring that their protests are peaceful tend not to hit the headlines as much as they deserve. However, they have still been instrumental in bringing about sweeping changes to the UK law and ensuring that we never lose any part of the freedom we have.
The most famous in my mind is the Suffragette Movement in England during the Victorian period. We cannot forget that they brought about the right for women to vote – without them we may still be living in a patriarchal society.
Pressure groups such as Liberty, Amnesty International and the British Institute of Human Rights have campaigned peacefully to ensure that the human rights we now enjoy made it onto the law books. Some groups have even managed to erase large parts of the debt placed on third world countries in a bid to ease suffering. So we can see that home-grown peaceful protest groups are instrumental in bringing about the recognition of international human rights and international freedom.
The Human Rights Act
1998 was an important year for the development of our human rights; this is due to the completion and acceptance into our law of The Human Rights Act 1998. The included a specific right to engage in peaceful protest or 'non-violent direct action'.
Essentially the Act means that the Government, or any public authority, cannot stop you from organising or taking part in a public protest, provided that the there is no harm to other people or property. This includes the person, group or thing you are protesting against, the Police or any rival protestors.
What is Non-Violent Direct Action?
This is any protest that gets your point across without descending into a riot of violence, blood-shed and mayhem. All protests get publicity but those that are carried on in a dignified manner tend to get the best attention from the media; and the greatest sympathy for your cause. For instance:
Truck-drivers organising, and getting authority for, a blockade to protest against fuel prices.
You could organise a 'sit-in' – this is a protest where all of those involved sit on the floor in a prescribed location.
You could get permission from your council to have a stall in your town centre, to tell people about the cause you are fighting for and gain valuable support.
In addition to this you could organise a petition to be sent to Parliament or arrange a protest march. Many of the things you could do will require the consent of your local authority to go ahead but they cannot withhold consent just because they don't want you to speak out.
So the Police Can't Stop Us?
Just because you have the freedom to protest does not mean that the Police cannot stop you, but again, there has to be a valid reason; such as the possibility of damage to property, serious public disorder or unacceptable disruption to the community around you.
They can also stop you if they think you would become a target for terrorism or if they believe that what you are protesting for is against the larger public interest or could incite racial hatred.
In this way you have the freedom to protest but the community has the right to freedom from danger and discrimination while you are doing so. As long you make sure that all participants have the same peaceful event in mind then there is no reason that you should not make your feelings known.
You might also like...
My Thai fiancee was granted a visa to enter the UK in 2011, whilst I was living in the United States, attempting to sell my house (I am a British citizen). Subsequent to the housing crisis which followed, I was unable to return to the UK before her visa expired and it then took a further 2 years to finalize the sale of my house. I returned to the UK in 2013 and we immediately applied for a new fiancee visa for her. This was refused on the grounds that insufficient evidence of an actual relationship had been supplied with the application bundle - a complete nonsense statement - and AFTER being granted a visa initially, whilst I was not even LIVING in the UK. We appealed, and in the appeal bundle, included over 500 pages of communications, text conversations, phone call records, video call records, money transfers etc etc, dating back to the day after we met in the US while she was working there. FIVE HUNDRED PAGES! It has now been 24 weeks since the appeal was lodged and we have hear (after much chasing on my part) that the appeal will not even be heard for another 7 weeks. The ECO that initially refused the visa, and to whom the appeal bundle was supplied, has not sent any documentation to the appeal panel, despite having a dealing date by which to do so (this deadline expired 2 weeks ago, at the time of writing this post). By the time the appeal has been heard, it will have been 4 years since I last saw my fiancee. This has been a horror story from start to finish, but we continue to speak three or four times every day, every week, every month that passes. My question - If this appeal is also refused, do I have grounds to appeal to the European Court of Human Rights under any existing clauses or laws? We will NOT give up on this - if it takes another 4 years, we will not give up. Any assistance would be greatly appreciated. Thanks!
JCP3012
- 23-Aug-14 @ 6:40 PM
i been in uk from 2004 ihade adiction problem with alcol and hevy drugs i been in prison meny time but all of them was related to my habet and almost the way homeoffice treating me they tru me in the street from 2008 till 2012 i hade mental helth problem and also adiction after 2011 they put me in prison for 6 mont sentence but they keep me till end of 2013 after that i came out with grant of bail plus taging and they send me tocity that i dont no any one they want me to comite cuiside ,,,and now some ppl help me to be drug free but my mental helth geting vorce ,please is it any law can help me i am also live with my mentaly ill girl friend for 4 years and she is europian but becuse i was in ditentian for most of this time the court not exept us as cople and this happen last year i have no money no soliciter and also no permition to work and also not good inof to work please any way for me to get my states or dead is best
sniperman
- 27-Jun-14 @ 1:02 PM
it seems that as the wife of a detainee in the ukwe have been married for 10.5 years I have no rights to be able to stop my husband from being deported. He does have a conviction for a mistake that he made . but apart from this he has always been of good character. Do I have any human rights
is anyone organising anti bedrm tax demonstration
mememe
- 22-Mar-13 @ 10:29 AM
Can you give me any news on UK Boarder and deportation on the gounds of mental health