Freedom from Slavery or Forced Labour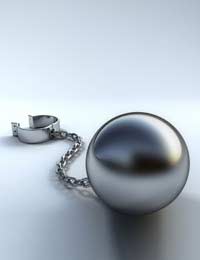 The right to be free from slavery is contained in Article 4 of the European Convention on Human Rights (ECHR). Article 4 has two parts:
The first part of Article 4 states that nobody shall be held in slavery or servitude
The second part states that nobody shall be subjected to forced or compulsory labour.
When the Human Rights Act 1998 came into force in October 2000 it gave full effect to Article 4 of the ECHR.
The Definition of Slavery
To be a slave is to be owned by another person and to, effectively, be deprived of one's autonomy. Slavery was abolished in the UK in the 19th Century and it may seem inconceivable that the term has any ongoing relevance in modern Europe. However, there are still occasions when an individual is found to have been kept as a slave.
Servitude is comparable to slavery but also covers the situation where an individual is completely in the power of another person but not actually owned by them.
The Definition of Forced or Compulsory Labour
Forced or compulsory labour covers any type of work, whether physical or otherwise, which an individual is compelled to do. The compulsion will usually be by the threat of punishment if the individual fails to comply.
The Right to Freedom from Slavery
The right to freedom from slavery is a fundamental human right. This is one of the few rights contained in the ECHR and, by extension, the UK Human Rights Act, which is absolute. This means that there is no set of circumstances which can override or qualify an individual's right to be free from slavery.
The Right to Freedom from Forced Labour
Whilst the right to freedom from forced or compulsory labour is also an absolute right, Article 4 gives specific examples of what does not constitute forced labour. Therefore to some extent this part of the human right is qualified.
The following circumstances do not constitute forced labour for the purposes of human rights law:
Work which has to be done, following a conviction, as part of a prison sentence or community sentence;
Military service, service to be performed as an alternative to military service by conscientious objectors or equivalent services to be performed by civilians. This applies regardless of whether an individual joined the armed forces voluntarily or was drafted;
Service which has to be performed because of a public emergency or other situation which puts at risk the life or well-being of the community;
Any work or service which constitutes the ordinary duties of members of a civilised society.
The Application of the Right to Freedom from Slavery or Forced Labour
The issue of slavery may be of particular relevance today in relation to the victims of human trafficking who may be brought to the UK as the property of criminal gangs. Similarly, foreign nationals trafficked to the UK may have their passports taken away in order to prevent them from leaving and to force them to work.
The conditions of such victims and workers may amount to slavery or servitude and will almost certainly constitute forced labour. Anyone treating another individual in this way would undoubtedly be acting unlawfully as such acts are contrary to both criminal and civil law. However, they would not form the basis of a human right's claim because the perpetrator would not be a public authority.
Human rights claims based on a public authority's breach of an individual's right to freedom from slavery or forced labour are rare. Those which do come before a court tend to be unsuccessful. Examples of situations which have been held not to form a breach of this right include:
Unemployed people being deprived of state benefits if they refuse to accept a job;
Trainee lawyers being made to do voluntary work as part of their, paid, apprenticeship;
A landlord being obliged to maintain a building which he owns;
An employer having to deduct taxes from the wages of his employees.
You might also like...
Made in sema figure. sided by state of Hawaii.Plants and animals and chemical put into my Service and bowels to produce a human mine to pay off national debt.$403 years Cain has eaten Judah.The time of sorrow has come to the nations for the cooking and consumption of the blood line of Jesus Christ, the son of the Living God.The butcher of Un; Ala Baka, the excutioners: free Masons and the Great Impostor, Esau., state and Federal Govements of the United States.God Says he hates Esau, the man eater,
nigger
- 28-Mar-20 @ 3:58 AM
They go about trying to get you to break the law by either giving you not enough to live, or throwing you into a mental institution where they force drugs(that you dont want to take) on you till you snap and can prosecute you, hence jail and can force labor on you. I have narrowly managed to avoid both of these penalties but the medical service wont now leave me alone. Any suggestions of how to address this dark issue?