Human Rights and Members of the Armed Forces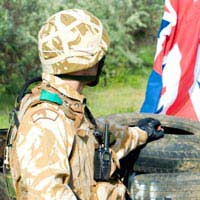 Until recently it was believed that members of the UK armed forces were protected by the Human Rights Act even when stationed abroad. However, a recent case which came before the UK's Supreme Court may have a serious impact on the entitlement of members of the UK's armed forces to rely on UK human rights law and to protect themselves from breaches of their rights.
In earlier cases heard in the UK it had been held that members of the UK armed forces were protected by UK human rights law whilst in military bases or hospitals abroad. Members of the armed forces are generally governed by UK law and are, themselves, bound to comply with standards of British law whilst serving abroad.
The Supreme Court Case on Human Rights and the Armed Forces
The case had originally been brought against the Ministry of Defence by the mother of a soldier, Jason Smith, who died in Iraq from heatstroke at the age of 32. The soldier's death occurred in 2003, soon after the allied forces had overthrown Saddam Hussein's regime. Mr Smith, who was a reservist with the Territorial Army, had complained to commanding officers that he was feeling unwell but died before he was taken to hospital.
The case had already been heard by judges in lower UK courts. Previous decisions had gone against the Ministry of Defence and found that members of the armed forces were protected by the Human Rights Act whilst serving abroad.
The Argument Against the Application of UK Human Rights Law
The Ministry of Defence believe that the Supreme Court's decision is based on common sense. They argue that it would be impossible to engage properly in combat if commanding officers were constantly having to balance every decision made and order given against the human rights of individual soldiers. They also state that it would be impossible to protect the human rights of individual soldiers in other countries, such as Afghanistan or Iraq, to the same standard as in the UK.
The Argument For the Application of Human Rights Law
This case was widely supported by human rights organisations and anti-war groups. The case was also seen as an important step towards ensuring that British soldiers who are sent abroad to fight are properly equipped. There have been numerous allegations that British soldiers are frequently poorly or under-equipped and that their lives are being put at risk as a result.
Although this case did not directly relate to the soldier's equipment, the principles contained in it could have a far-reaching impact on the general duty of the Ministry of Defence and commanding officers to ensure that the rights and welfare of their soldiers are being observed. This could include a duty to ensure that the equipment used by soldiers offers an appropriate level of protection.
The Aftermath of the Supreme Court's Decision
The family of the soldier who died immediately said that they intended to take the case to the European Court of Human Rights, which is the final court of appeal for any UK human rights law decision. The European Court of Human Rights already has a case pending which concerns alleged breaches of the human rights of Iraqi citizens by members of the UK armed forces.
Advocates of the wider application of human rights law argue that the UK government has a duty to protect the human rights of individuals over whom it has control - both in the UK and abroad. By denying the human rights of members of the armed forces, or of foreign nationals under the control of the UK authorities, the UK government may not be fully enforcing human rights law.
Despite allowing the government's appeal in the case of Jason Smith, the UK's Supreme Court agreed with an earlier court decision that a second inquest should be conducted into Mr Smith's death. The second inquest could investigate the wider circumstances surrounding his death - including whether his human rights had been breached. The Supreme Court judges also acknowledged that the question of how widely human rights law should be applied to UK armed forces stationed abroad may require further clarification by the European Court of Human Justice.
You might also like...
Further on in my case. My case was seen by the president of the Administrative Upper tribunals and since then directions have been issued to the appropriate authorities on how to handle reasonable doubt as a burden of proof. Bullying claims have to be handled by the mod legal department, I was advised to put in abullying claim. The MOD has accepted that I have been subjected to verbal abuse continuously since 1977 because of the treatment inflicted on me by the Royal Navy, but I have to get an injury attached to that bullying. A recent tribunal has directed that any medical condition that was used in evidence in War Pension casesthat have an entitlement, should be accepted as further conditions. Without my knowledge, a neuropsychological assessment I undertook which showed I had cognitive, attention factor and executive function deficits (probably disexecutive syndrome) has now being assessed as further conditions. Nine and half years on and my case is still going strong and it looks like it is being handled properly at last.
Ricky
- 17-Mar-17 @ 10:26 PM
Correction, it should be reasonable doubt.
Ricky
- 22-Apr-16 @ 12:26 PM
A mistake in my entry, it should say abnormal celebration. Veterans-UK have again tinkered War Pension rules and directions from the Upper Tribunal and dismissed my latest claims and letting it be decided at a Pensions Appeal Tribunal. Veterans-UK has difficulty understanding the term 'reasonable county's.
Ricky
- 22-Apr-16 @ 12:24 PM
I was serving on HMS Eskimo stationed at Curacao in 1977 and I suffered a severe cerebral contusion with 27 days comatose/unconsciousness. My parents were sent over by the MOD to repatriate me. On repatriation and admission to RNH Haslar I was assessed as having 'very very slow character' normal cerebration and high ESR. It was thought that I suffered concussion and I was sent back to work on restricted duties and was to have my I.Q. assessed. About a month later I was handed all my back pay and I bought a motorbike. I fell off it a few times and I broke my wrist. RN medical staff quickly realised they had misdiagnosed me and fraudulently recorded the neuropsychological assessment I had to take. I was sent back to work assessed as having made a full recovery. I managed to survive another 16 years in the RN despite all my behavioural problems. My divisional records got lost in 1989 and I was put under warning for poor workmanship. That happened again in 1991. I did not know then that my behaviour was allowed for and I did not have 'Insight' into my behaviour and how other people perceived me. After leaving the RN in 1993, despite spending 4 years at university I struggled to find and keep employment. I got sacked a few times and put under warning a few times. In 2007 I went to see my GP as I was starting to think there must be something wrong with me. It turned out my GP had no information on my head injury. Soon after that I applied for a War Pension as I had realised I had never received treatment for my head injury while in the RN. My case is still ongoing 9 years on. Google 'richard davie war pension' for more insight. My Human Rights have been violated as the RN discriminated against me and withheld medical treatment from me because I had suffered a severe TBI and lacked insight.
Ricky
- 20-Mar-16 @ 11:02 AM
I was diagnosed with lung cancer 3 months ago. Pleural plaques were discovered during scans, showing asbestos was involved. I served in the Royal Navy from 1964 to 1975 and was exposed to heavy concentrations of asbestos dust. I attempted to take out a personal injury case against MOD, but was informed they had Crown immunity prior to 1987, so I was denied this human right which would be readily available to all civilians. Surely there must be a way to rectify this ridiculous situation David Cameron has recently assured servicemen and women they would be guaranteed equality, this is not equality
Alex
- 14-Nov-15 @ 2:13 PM